Batteries and Power Charges, Peripherals and Accessories
Ecoflow Wave 2 Wireless and Portable Cooling & Heating

---
EcoFlow Wave 2 | The most powerful and compact portable AC
Product Features:
 Fastest Cooling and Heating
4 Ways to Charge, 8 Long Hours of Comfort
Installation-free! Fits Anywhere
44dB: Perfect For Quiet Sleep
Using R290: A Greener Way to Beat the Heat
Product Dimensions 20″D x 13″W x 12″H
Disclaimer: Prices and stock availability on our website are subject to change without prior notice. We recommend verifying the current price and stock status before making a purchase.
Delivery Lead Time: 3-5 Working Days (NCR)
Order Basis: 45-60 Working Days ETA
₱54,689.00
Compare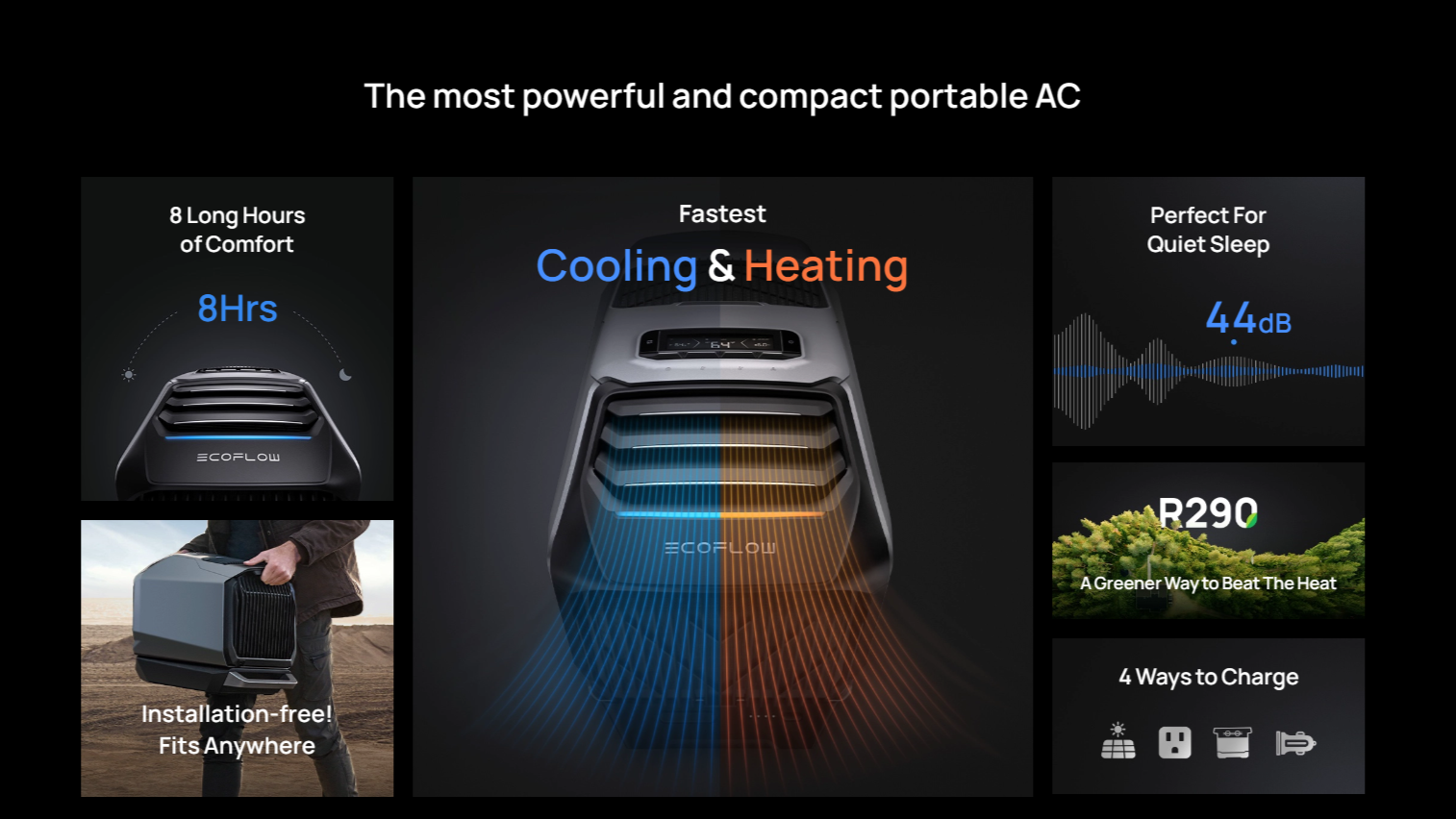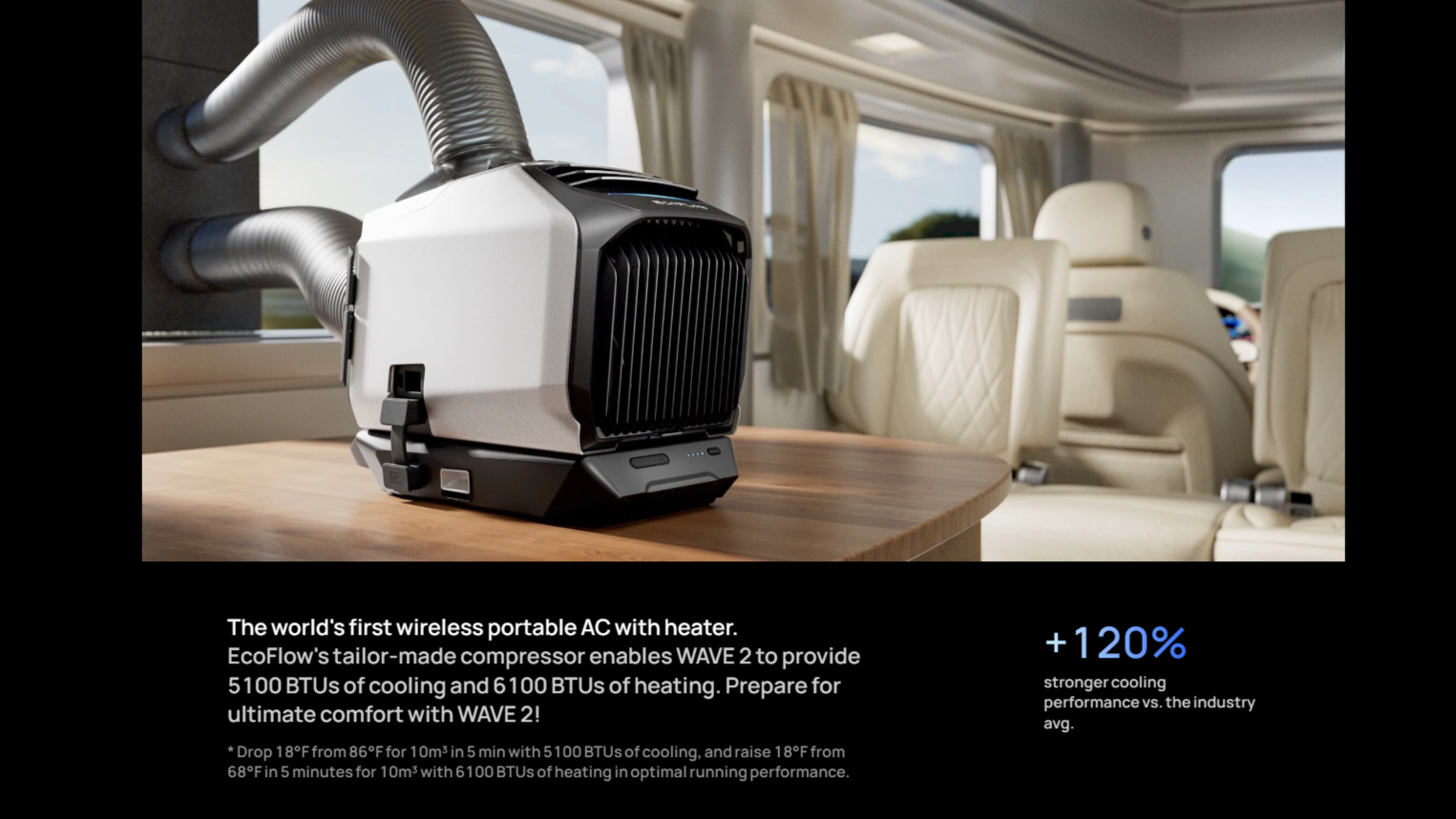 The Ecoflow Wave 2 is a portable air conditioner that allows you to heat or cool a room. With its compact size and weight of only 14 kg, you can take the air conditioner almost anywhere or easily move it from room to room. The Ecoflow Wave 2 has a cooling capacity of 5100 BTU and a heating capacity of 6100 BTU. The portable air conditioner can be used at home or at the campsite (tent, caravan, etc.).
You can efficiently power the Wave 2 via a Delta 2/Delta 2 Max & Delta Pro Power Station with the Ecoflow Wave MH200 XT150 connection wire (see accessories), through the wall outlet, through the 12V car charger or through a solar panel (max. 400W). This allows the air conditioner to operate completely without CO2 emissions. In addition, do you opt for the additional battery? Then you can add a self-sufficient working time of eight hours in combination with this battery. Through the Ecoflow app, you can easily access all your information.
The Wave 2 is safe to use and has the advantage of saving space and money. This new smart air conditioner makes life off-grid even more comfortable.
Powerful Cooling & Heating. With EcoFlow's tailor-made compressor, Wave 2 can drop the temperature by 18℉ (10℃) in 5 mins in cooling mode (5100BTU) and raise the temperature by 18℉ (10℃) in 5 mins in heating mode (6100BTU).

Four Ways to Charge. Charge EcoFlow Wave2, the ultimate air cooler and heater, quickly with AC, solar, car, and power stations. Its swappable battery allows for cool or warm air anytime, anywhere, with the flexibility of multiple charging options, making it the perfect tent, RV or camping air conditioner.

Peaceful and Long-lasting Comfort. Enjoy a peaceful snooze with Wave 2's quiet operation (44 dB) in Sleep Mode, and up to 8 hours of use in Eco Mode. With multiple modes and app control, it offers longer-lasting comfort in your tent, RV, or home. Its powerful and portable design ensures you can take it anywhere you need it.

No Water Left Behind. Enjoy the convenience of cooling and heating right out of the box! EcoFlow Wave2 is the perfect air conditioner for any compact space. It's extremely simple to use, requiring no installation or drainage*.

*No drainage is needed in cooling mode when humidity is below 70%, but it is still needed in heating mode.

Extended Run Time. With a 1159Wh add-on battery, EcoFlow AC unit is truly portable. Add on a DELTA 2/DELTA Max and extend run times to a record-breaking 7-14hrs – that's 28% more efficient than other power stations. And of course, you can top up at home via a wall outlet too.
INPUT:
Solar Charging Input:

11-60V, 13A, 400W Max

Car Charging Input:

96W/192W (12/24V, 8A Max)

Add-on Battery Power:

700W Max
GENERAL:
Net Weight: Approximately 14.5 kg (32.0 lbs)

Dimensions: 518 × 297 × 336 mm (20.4 × 11.7 × 13.2 in)

Bluetooth: Yes

Wi-Fi: This product supports 2.4G Wi-Fi only

Noise Level: 44-56dB

Refrigerant/Amount: R290/130 g

No-Drain Function: Supported (in cooling state)

Cooling Area: ≤ 10 ㎡ / 107.6 ft²

IP Rating: IPX4
COOLING
Rated cooling power (AC/DC): 550W/495W

Cooling Capacity: 1500W/5100BTU
HEATING
Rated Heating Input Power (AC/DC): 600W/540W

Heating Capacity1800W / 6100BTU
ADD-ON BATTERY
Capacity: 1159Wh

Cycle Life: 80%+ capacity after 800 cycles

Battery Chemistry: NCM

IP Rating: IP65

Net Weight: Approximately 7.8 kg (17.2 lbs)

Dimensions515 × 272 × 92 mm (20.3 × 10.7 × 3.6 in)

USB-A Output5/9/12V 2.4/2/1.5A, 18W Max

USB-C Output5/9/12/15/20V 5A, 100W Max
Supported Battery
EcoFlow WAVE 2 Add-On Battery: ✓

EcoFlow DELTA Max: ✓

EcoFlow DELTA Max Extra Battery: ✓

EcoFlow DELTA 2: ✓

EcoFlow DELTA 2 Extra Battery: ✓

EcoFlow DELTA Pro: ✓

EcoFlow DELTA Pro Extra Battery✓
ENVIRONMENTAL OPERATING TEMPERATURE
Optimal Operating Temperature: 5°C – 50°C (41°F – 122°F)

Charge Temperature: 0°C-45°C (32°F-113°F)

Discharge Temperature: –20°C-50°C (–4°F-122°F)

Ambient Temperature for Storage: –10°C – 60°C (14°F – 140°F)

Temperature Setting Range: 16°C – 30°C (60°F – 86°F)
Based on 0 reviews
Only logged in customers who have purchased this product may leave a review.